10 Easy Korean Dishes You Can Make At Home for Korean American Day 2021
On January 13, the whole country celebrates Korean American Day to recognize and highlight our friends of Korean descent who have made limitless contributions as business owners, faith leaders, artists, doctors, military service members, and elected officials ever since the first immigration wave occurred in 1903.
Got no plans to go out and party? Pay homage to our Korean brothers and sisters by cooking these ten easy Korean dishes at home instead!
Candied Sweet Potato (Matang)
Transform your sweet potato to a delicious snack, or enjoy it as a star side dish to your favorite savory recipe using just three more ingredients!
What You'll Need:
1 pound of Korean sweet potato

vegetable oil

sugar

black sesame seeds
Directions:
Peel the sweet potato and rinse it in cold water. Dry it with a paper towel and slice into smooth-edged triangles, about 2 inches wide and ½ inch thick.

Heat 5 cups of vegetable oil in a frying pan and fry the sweet potato chunks over medium-high heat for 6-8 minutes until golden brown.

Make the coating syrup by adding 1 tbsp. of vegetable oil in a thick bottomed pan and spread it by moving the pan around. Sprinkle 1/4 cup of white sugar over the oil evenly.

Heat the sugar over medium heat for a couple of minutes. When the sugar starts melting, lower the heat and simmer about 7-8 minutes more until the sugar turns into a golden-brownish syrup.

Put it together by adding the fried sweet potato to the syrup in the pan. Gently mix to coat the chunks in syrup. Transfer the potatoes to a non-stick sheet of baking parchment and sprinkle some black sesame seeds over top. When the coating cools down and becomes solid, transfer it to a bowl and serve.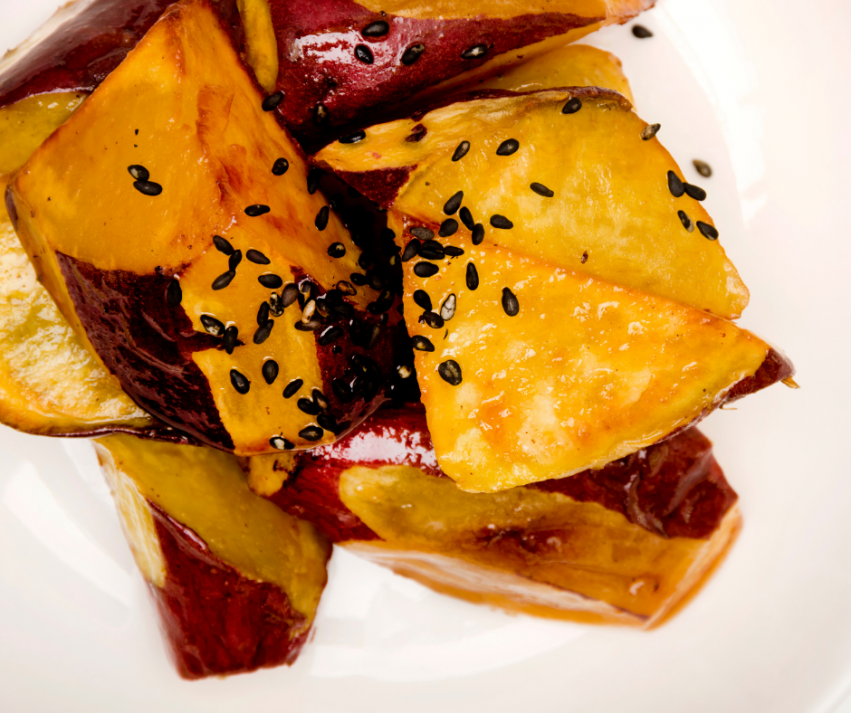 Bibimbap
Enjoy a classic Korean dish made up of rice, various veggies, and savory steak! Spice things up with spicy gochujang sauce and bring all the amazing flavors together in one big bowl!
What You'll Need:
1 cup uncooked white rice

10 ounces mushrooms sliced

5 ounces of carrots sliced

1 zucchini sliced

3 eggs

3 tablespoons gochujang

3/4 teaspoon black sesame seeds
For the steak marinade:
3/4 pound flank steak thinly sliced

2 tablespoons soy sauce

1 tablespoon corn starch
Directions:
Make the marinade by rubbing cornstarch onto the sliced flank steak in a bowl. Drizzle the soy sauce over the meat and let it sit in the refrigerator for at least 30 minutes.

Cook the rice according to package instructions. Distribute the cooked rice among three serving bowls.

Heat a pan over medium heat until hot. Cook the vegetable toppings in turn until they become tender. Sear the steak until it's no longer pink. Fry the eggs on the side until the whites are firm.

Distribute the toppings among the prepared serving bowls. Drizzle your gochujang over it and sprinkle with black sesame seeds.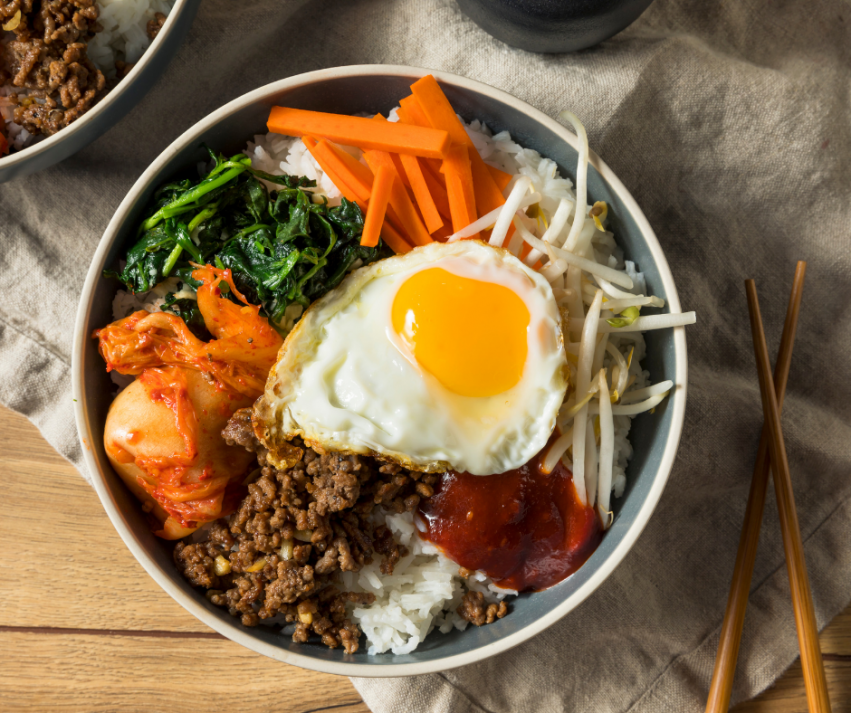 Whole Chicken Soup (Dak Gomtang)
Are you looking to serve up a hearty meal for dinnertime? This soothing clear soup made with a whole chicken introduces extra layers of flavor with its abundant addition of garlic, ginger, and onion!
What You'll Need:
1 whole chicken (3 to 4 pounds)

10 - 12 plump garlic cloves

1 1-inch piece ginger, sliced

1/2 medium onion

2 - 3 scallion white parts

1/2 teaspoon whole black peppercorns (if available)

3 scallions, finely chopped to garnish

salt and pepper to taste
Directions:
Clean the chicken and place it in a large stockpot. Put 10 cups of water (enough to cover the chicken) and add the garlic, ginger, onions, scallions, and peppers.

Bring it to a boil over high heat and skim off any foam on top. Reduce the heat to medium and boil for about 40-50 minutes. To see if the chicken is cooked, cut through the thickest part of the breast with a knife.

Turn the heat off and remove the chicken. Remove the meat off the bones once the chicken is cool enough to touch. Shred meat into bite-size pieces. You may put the bones back in the soup and boil again for a more flavorful broth.

Strain the broth to remove excess fat. Serve the chicken soup piping hot over rice and add chicken pieces. Partner it up with tasty kimchi.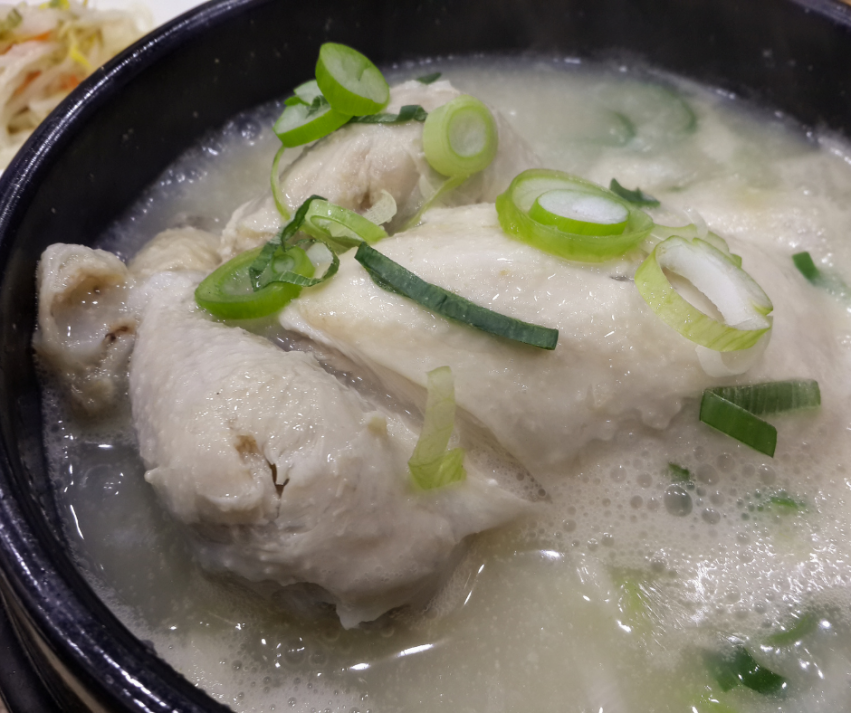 Beef Bulgogi
Savor one of the most popular Korean dishes composed of sweet, marinated beef cooked with sliced onions and carrots, perfect to pair with some hot rice or noodles!
What You'll Need:
2 pounds thinly-sliced beef (rib eye or top sirloin) - see note

3 scallions, cut into 2-inch pieces

1 small onion, thinly sliced

1 small carrot, thinly sliced - optional
For the Marinade:
6 tablespoons soy sauce

3 tablespoons water

4 tablespoons sugar ( or you can use 2 T sugar 2 T honey) Use more if not using Korean pear or apple

2 tablespoons rice wine or mirin

2 tablespoons minced garlic

2 tablespoons sesame oil

2 teaspoons sesame seeds

4 tablespoons grated Korean/Asian pear

1/8 teaspoon pepper
Directions:
If using pre-sliced meat, separate the slices and remove any excess blood using paper towels. Mix all the marinade ingredients in a bowl. In a separate large bowl, place the meat and vegetables and add the marinade. Toss gently to combine everything well and let it sit up to overnight if possible.

Grill the meat on a charcoal or gas grill, or pan-fry in a skillet over high heat until slightly caramelized. Do not crowd the skillet. You can also stir-fry the meat over high-heat and crowd the pan to generate some liquid, and let the meat cook in its juice. Cook until the meat is no longer pink. You may use all the marinade for sauce.
Vegetable Tempura
Craving for something extra crispy? Bring veggies to the next level and make it your kid's fave snack-- try this Vegetable Tempura, and we'll make sure that you won't regret it!
What You'll Need:
1/2 large yellow onion (sliced)

1 Korean sweet potato medium-sized, or 1 C french fry-sized strips

2 carrots (small to medium, 1 C french fry-sized strips)

1 green onion (bunch)

6 cups of vegetable or canola oil for deep frying
For the Tempura batter:
1.25 cup flour

1/4 cup cornstarch

1 egg

300 ml ice-cold water

1 tsp sea salt
Directions:
Peel sweet potatoes and carrots. Cut them into thin french-fry sized match sticks.

Clean and cut both green onions and onions similar in length to the potato and carrots. Onions cook quicker so they can be a little thicker. Toss the vegetables together in a large bowl.

Add all the batter ingredients and mix until there are no big lumps. Do NOT overmix. Add vegetables to batter and mix to coat evenly. Heat about six cups of oil for deep frying on medium-high heat until it reaches roughly 335 - 350 F. Fry your vegetables and keeps the heat between med-high and medium. Serve with soy vinegar dipping sauce!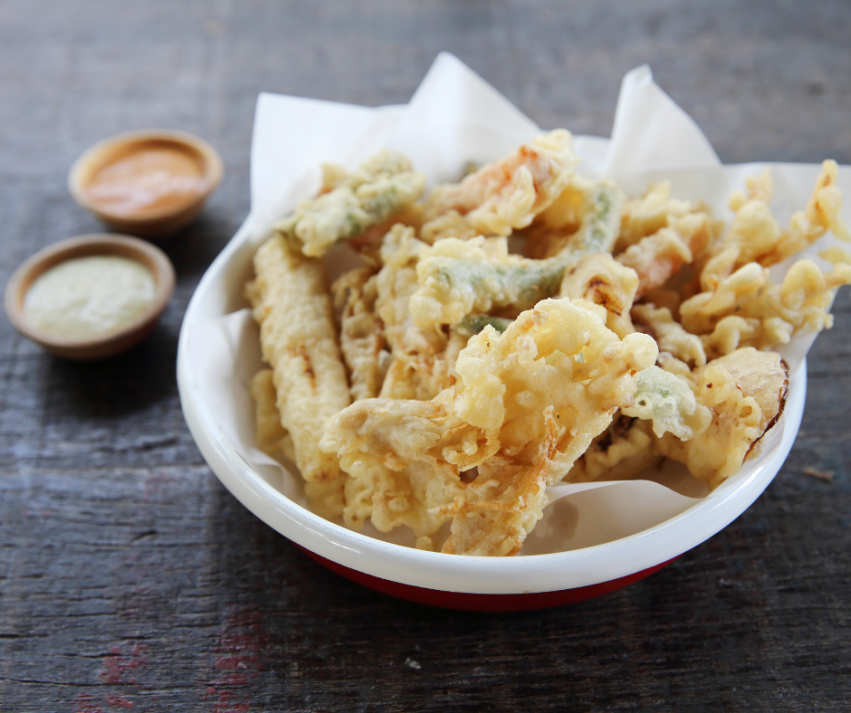 Haemul Pajeon
Have you ever heard of a savory pancake? Pajeon is one of the most popular Korean appetizer dishes, often enjoyed before meals or as bar food, made up of seafood and sliced scallions! Enjoy it with just one other side dish or eat it in a heartier portion as a meal in itself!
What You'll Need:
1-1/2 to 2 cups assortment of seafood squid, shrimp, mussels, oysters, clams, etc., cut into bite sizes

1 tablespoon sesame oil

1 or 2 bunches scallions

1 red chili pepper - optional

1 egg lightly beaten - optional
For the batter:
1 cup Korean pancake mix, buchim Garu, 부침가루 (or all-purpose flour or gluten-free flour with 1/2 teaspoon salt)

For the dipping sauce:

1 tablespoon soy sauce

2 to 3 teaspoons vinegar

1 tablespoon water

pinch of black pepper

pinch of gochugaru Korean red chili pepper flakes

1/2 teaspoon sugar - optional

1 tablespoon chopped scallion - optional

1 tablespoon Diced onion - optional
Directions:
Prepare the seafood, scallions, and optional pepper, draining excess water. Cut the scallions in half crosswise. Cut the white part of the scallions lengthwise if thick. Mix the seafood with the sesame oil.

Mix the pancake mix with 3/4 cup icy cold water. You may need a couple more tablespoons but add one tablespoon at a time. The batter should be thinner than a Western breakfast pancake batter and thicker than a crepe batter. Mix in half of the seafood.

Heat 3 to 4 tablespoons of vegetable oil in a non-stick pan over medium-high heat, ladle 1/2 of the mixture into the pan, and spread it evenly into a thin round shape. Arrange the scallions in a single layer on top of the batter, pressing them down into the batter. Add 1/2 of the remaining seafood and a few slices of the optional pepper.

Spoon one half of the optional lightly beaten egg on top. Cook until the bottom is golden brown. Turn it over, adding more oil (2 to 3 tablespoons) around the edges. Cook for another 3 – 4 minutes. Repeat the process with the remaining batter and ingredients. Serve hot off the pan with dipping sauce.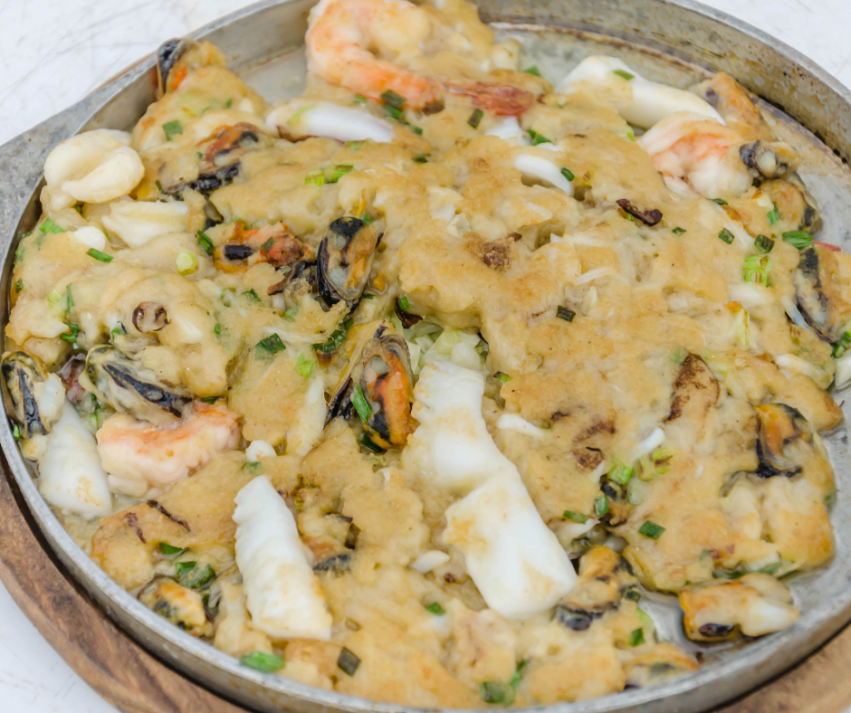 Easy Kimchi Fried Rice
Fill your tummies up with a delicious dish out of just a few simple ingredients, and get ready to elevate your fried rice into a bookmark-worthy meal!
What You'll Need:
1 cup kimchi (*see note), cut into thumbnail size pieces

150 g bacon (5.3 ounces), cut into thumbnail size pieces

1 pack enoki mushrooms (200 g / 7 ounces ), root removed, rinsed, and drained (optional)

3 cups steamed short-grain rice (or medium-grain rice), – if it is freshly cooked, leave it out for 5 to 10 mins at room temperature to cool down before cooking

4 x-large eggs cooked sunny side up or per your preference

1/2 tsp minced garlic

1/4 cup Kimchi juice (*see note) – this liquid is from the bottom of the kimchi container

1/2 Tbsp sesame oil

1 Tbsp cooking oil

1 Tbsp toasted sesame seeds to garnish

1/2 stalk green onion to garnish, thinly sliced (optional)

roasted seasoned seaweed, shredded (optional)
Directions:
On medium-high heat, preheat a pan/wok. Add the cooking oil and spread it well with a spatula. Add the garlic and the bacon, and stir well until half-cooked.

Add the Kimchi and stir until 80% of it is cooked. Add the mushrooms and mix them well for a few seconds. Reduce the heat to medium-medium low.

Mix in the rice and the kimchi juice. Mix thoroughly. Add your sesame oil and mix to incorporate well. Remove from the heat, place the egg on top, and enjoy!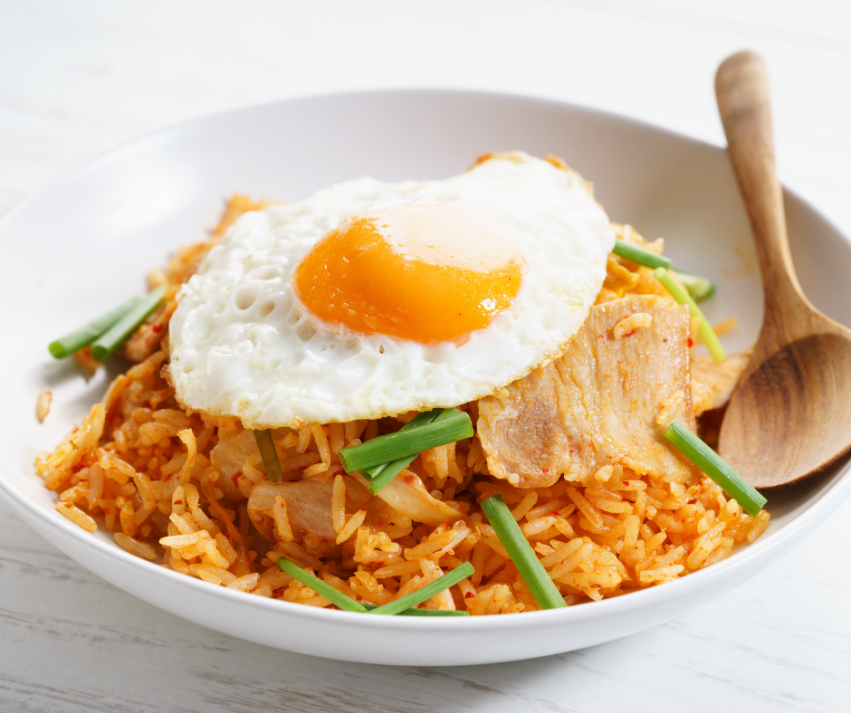 Japchae
Have a sweet spot for noodles? Try this simple Korean noodle dish made with sweet potato noodles and vegetables and concoct a delicious masterpiece in less than 30 minutes!
What You'll Need:
8 oz sweet potato noodles

4 oz spinach

1 1/2 tablespoons oil

2 cloves garlic, minced

1/2 small onion, thinly sliced

3-4 fresh shiitake mushrooms, sliced

1 small carrot, cut into thin strips

1 stalk scallion, cut into 1-inch lengths

1/2 tablespoon sesame oil

salt to taste

1 teaspoon toasted white sesame

For the sauce:

4 tablespoons soy sauce

2 1/2 tablespoons sugar
Directions:
Cook the sweet potato noodles in a large pot of boiling water for about 5 minutes. Drain the water and rinse the noodles under cold running water. Cut the noodles using a pair of scissors into about 6-inch lengths. Set aside.

Heat a pot of water and bring it to a boil. Blanch the spinach until they are wilted. Drain the water and rinse the spinach under cold running water. Form the spinach into a ball and squeeze it to discard the remaining water. Cut the spinach ball into half.

Heat the oil in a skillet or wok and add the garlic, onion, mushroom, and carrot and cook for about two minutes. Add the scallion and stir-fry for another minute. Turn the heat to low and add the noodles and spinach into the skillet or wok, follow by the sesame oil, the Sauce, and salt to taste. Stir to combine well. Dish out, sprinkle with the sesame seeds and served at room temperature.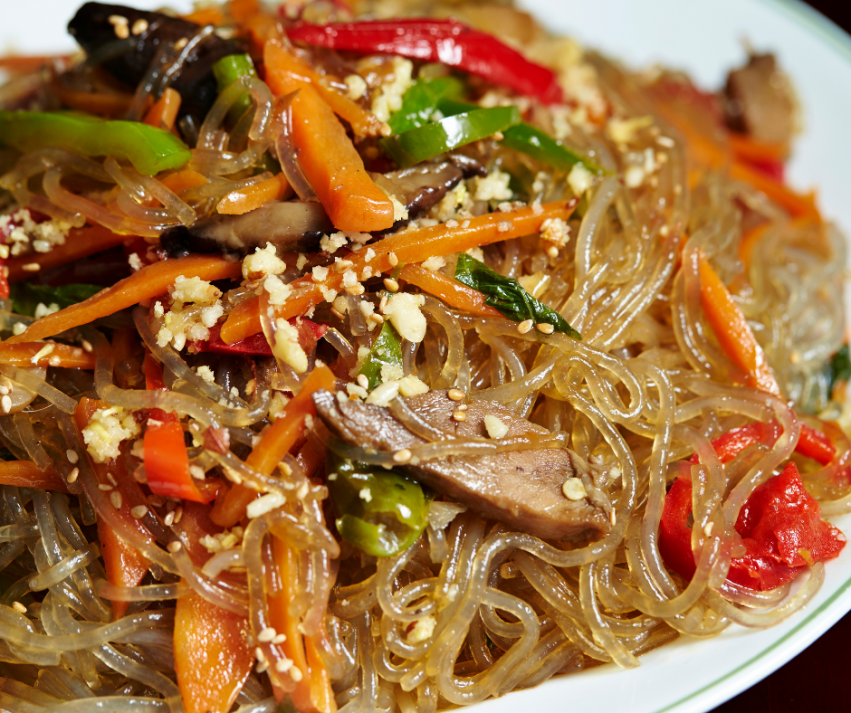 Spiced Crunchy Cucumber
Pickles are always a good idea, whether it's in a burger or alongside some rice and meat. Try this spicy Korean version of your favorite "banchan," and you'll never get enough of it!
What You'll Need:
1 pound Kirby cucumbers (or hothouse or English cucumbers)

1 1/2 teaspoons fine sea salt

Optional: 1 small clove garlic (minced)

1 tablespoon gochugaru (Korean chile flakes) or red chile flakes

1 teaspoon rice vinegar

1 teaspoon toasted sesame oil

2 to 3 teaspoons sugar

Optional: 1 teaspoon toasted sesame seeds
Directions:
Chop the Kirby cucumbers into 1/2-inch pieces. Put the chopped cucumbers in a colander set over a large bowl. Sprinkle the cucumbers with the salt and toss them gently to combine. Let them sit for 30 to 60 minutes. The salt will draw out water from the cucumbers.

Squeeze the cucumber pieces firmly to release more water; doing this in small handfuls will be the most effective. Lay the cucumber pieces in a single layer on a clean kitchen towel or paper towels; roll up the towels tightly around the cucumbers to squeeze out even more water.

Put the cucumbers in a medium bowl. Add the garlic, if using, and toss to combine. Add the pepper flakes, rice vinegar, sesame oil, and sugar. Mix everything to combine thoroughly. Add the sesame seeds, if desired, and toss to combine. Cover and chill the pickles for at least 30 to 60 minutes before serving.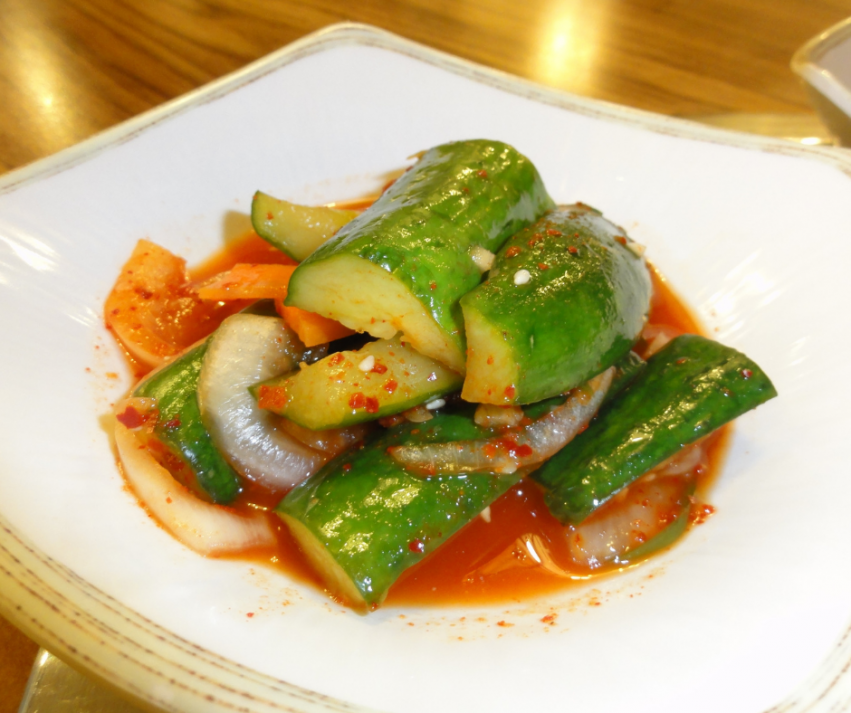 Dakjjim
Got a slow cooker at home? Put it to good use and enjoy this sweet, tender, and moist chicken dish you truly deserve!
What You'll Need:
1 medium-size chicken cut up about 2.5 pounds of cut pieces
2 medium potatoes cut into large chunks
1 medium carrot cut into large chunks
1/2 large onion cut into large chunks
4 – 5 mushroom caps shiitake, white, or baby Bella, cut into large chunks
4 – 5 plump garlic cloves
3 – 4 thin ginger slices 1-inch round
2 – 3 dried whole red chili peppers or green chili peppers or jalapenos – optional
2 scallions
For the sauce:
1/3 cup soy sauce
2 tablespoons dark brown sugar
2 tablespoons oyster sauce or 2 more tablespoons soy sauce.
3 tablespoons rice wine or mirin
2 tablespoons honey or 2 to 3 more tablespoons brown sugar
1/4 teaspoon pepper
2 teaspoons sesame oil
1 teaspoon sesame seeds
Directions:
Clean and cut the chicken into small pieces (2 to 3-inch sizes). Trim off excess fat. Drain thoroughly or pat dry with paper towels. Place the chicken and vegetables, except scallions, in the slow cooker. Pour in the sauce and toss everything well.

Cover, and cook for about 4 hours on high or 6 hours on low. Stir to rotate the chicken over midway through the process, if you're home. Stir in the scallions, sesame oil, and sesame seeds with a few minutes remaining.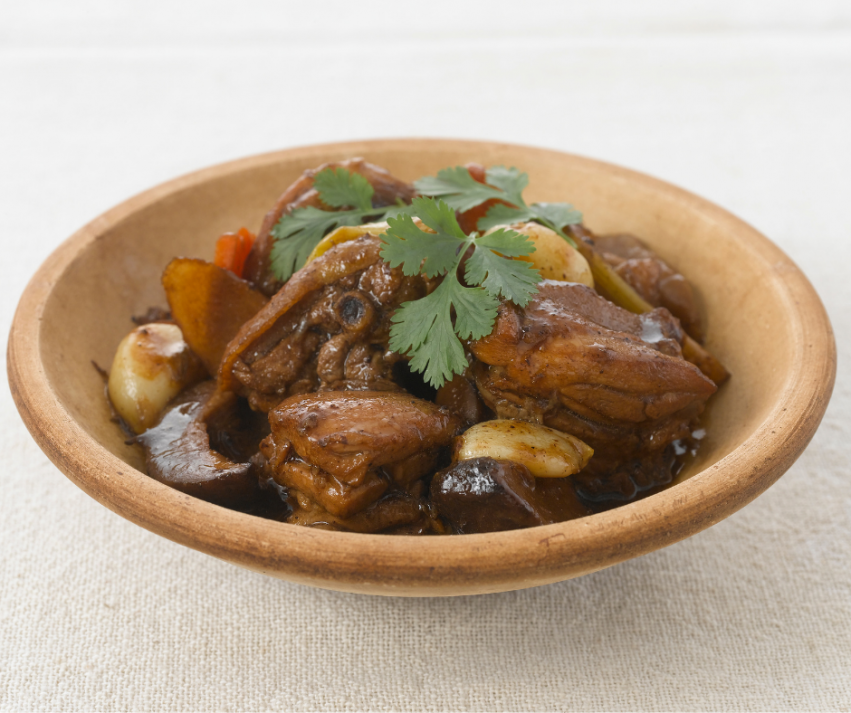 Selling Your Home?
Get your home's value - our custom reports include accurate and up to date information.
Get Home Value