Cheese Overload on National Cheese Lover's Day!
Almost 98% percent of the world population has developed a fascination for cheese, and it's not exactly a secret. Oh, cheese-- yes, that sultry dairy staple may be nothing but decay and decomposition, but it's the gooey, melty goodness that food dreams are made of. In fact, it's so happiness-inducing that it's the word we've chosen to make people smile during photos (SAY CHEESE!).
Cheese lovers, rejoice! January 20 is a day dedicated to our undying love for cheese, and no one can stop us! Spread the good vibes and dopamine all around the household by trying these ten easy cheesy recipes for National Cheese Lover's Day (or any day for that matter!):
Grilled Ham and Cheese Waffle Sandwich
Start your day with a cheesy breakfast staple everyone in the family will love!
What You'll Need:
8 frozen toaster waffles

1 tablespoon Dijon mustard (optional)

½ pound sliced deli ham

¼ pound Cheddar, thinly sliced

4 tablespoons unsalted butter
Directions:
Place four of the waffles on a work surface and spread one side of each with the mustard.

Top the waffles with ham, cheese, and the remaining waffles, and spread 1/2 teaspoon of butter on the top of each sandwich.

Melt the remaining butter in a large nonstick skillet over medium heat and add the sandwiches, buttered-side up. Cook until the cheese melts and the waffles are golden.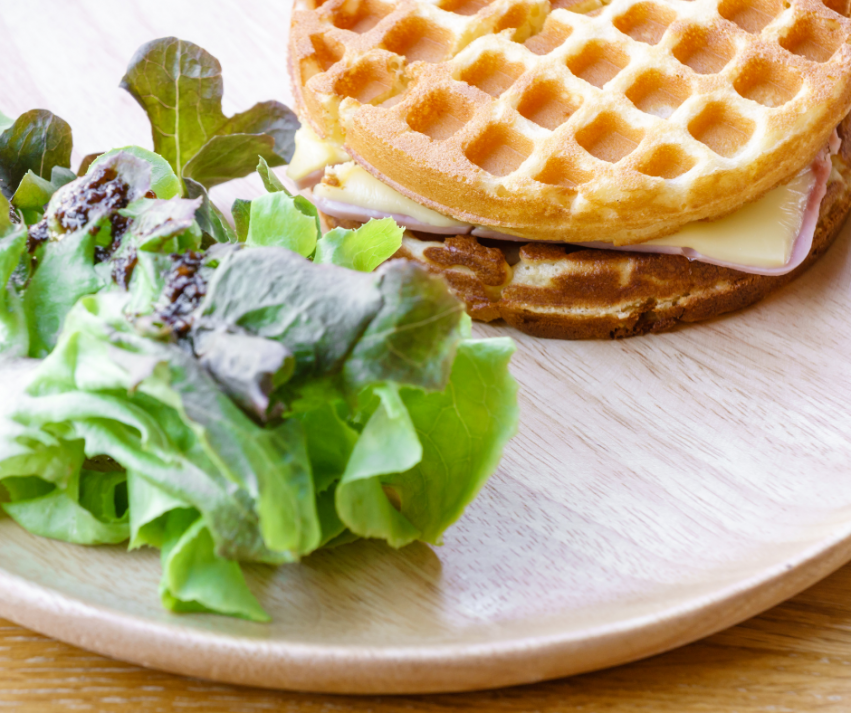 Roast Beef and Cheddar Roll-Ups
Roll-ups are a perfect easy meal for people on the go or those who crave a filling snack. It's especially scrumptious with a thick layer of cheese!
What You'll Need:
4 ounces cream cheese, softened

2 tablespoons prepared horseradish

4 large flour tortillas

1 head romaine lettuce, tough ribs removed

8 ounces thinly sliced deli roast beef

4 ounces Cheddar, thinly sliced
Directions:
Combine the cream cheese and horseradish in a small bowl. Spread the mixture evenly on each tortilla.

Layer the tortillas with lettuce, roast beef, and cheddar slices, and roll-up.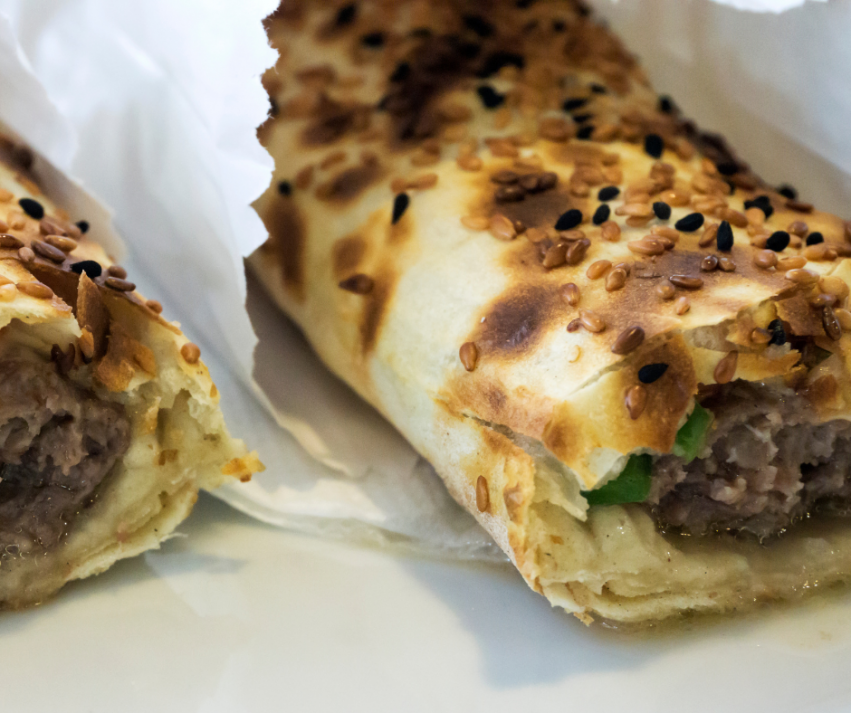 Buttermilk-Cheese Scones
Buttermilk scones are a South fave, whether it's by itself or paired with crispy chicken and gravy, but it's most certainly a hundred times better when it's baked with cheese!
What You'll Need:
3 cups all-purpose flour

1 teaspoon baking powder

3 tablespoons cold unsalted butter, cut into small pieces

1 cup shredded Gruyere or Swiss cheese

½ cup grated Parmesan

1 tablespoon chopped fresh thyme

1 teaspoon hot pepper flakes

1 ¼ cups buttermilk
Directions:
Preheat the oven to 400° F. Lightly coat a baking sheet with vegetable cooking spray.

Combine flour, baking powder, and butter in a food processor and pulse until the mixture resembles breadcrumbs. Transfer to a large bowl and add the two kinds of cheese, thyme, hot pepper flakes, and buttermilk. Stir until the mixture sticks together.

Transfer the dough to your work surface and knead until it comes together. Shape the dough to form an even, flat round about 1 inch thick. Cut the dough into 12 wedges. Place the cut pieces about 2 inches apart on the baking sheet and bake until light golden brown.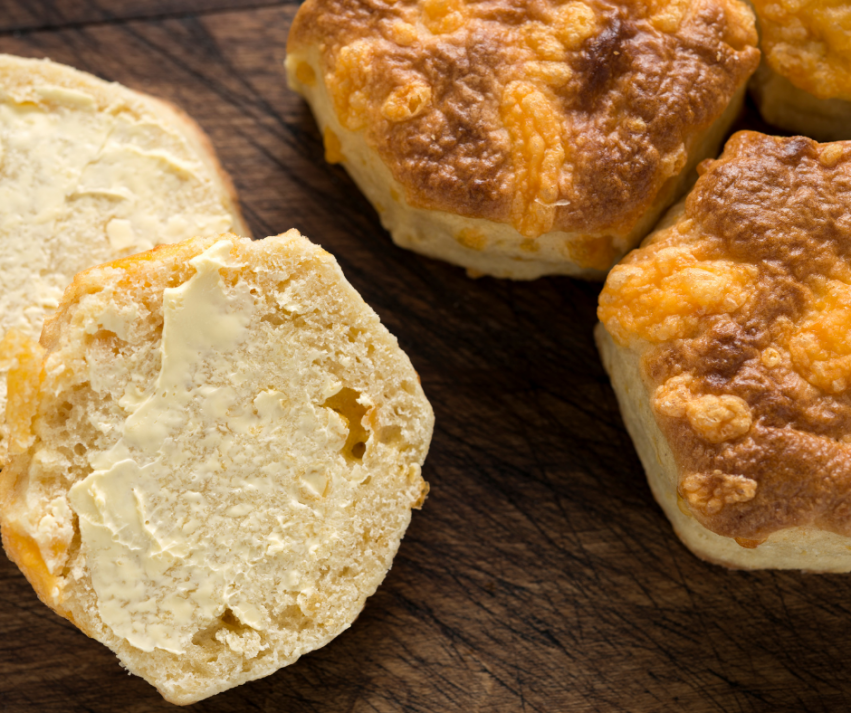 Scalloped Potatoes with Cheddar Cheese
Scalloped potatoes are easy to make and go well with any protein or vegetable, which is why it should be on everyone's recipe book! Add some cheese to this lovely side and take it up a notch to impress the fam!
What You'll Need:
4 cups potatoes, thinly sliced (about 6 to 8 medium potatoes)

2 tablespoons all-purpose flour

1 teaspoon salt

1/8 teaspoon pepper

3 tablespoons butter

2 cups scalded milk

1/2 cup cheddar cheese, shredded
Directions:
Preheat the oven to 375 F. Butter a 2-quart baking dish. Layer 1/3 of the potatoes in the prepared baking dish.

Combine the flour, salt, and pepper in a small bowl and sprinkle half of the mixture over the potatoes. Repeat the procedure with the remaining flour and potatoes. Dot with butter and pour the hot milk over the potatoes. Cover the baking dish with foil and bake until the potatoes are tender.

Remove the foil and sprinkle the shredded cheese on top. Return the potatoes to the oven and bake again, uncovered, until the potatoes are tender and cheese has melted. Serve and enjoy!
Cheese and Sausage Quiche
Are you missing your weekly tea parties with the gals? Relieve the memorable chatter and infectious laughter with this delicious quiche recipe smothered with cheese!
What You'll Need:
1 prepared pie shell (9-inch)

8 ounces bulk pork sausage

4 hard-boiled eggs

4 ounces shredded Swiss cheese

4 ounces shredded cheddar cheese

3 large eggs

1 1/4 cups milk or half-and-half

1/2 teaspoon salt

1/8 teaspoon pepper
Directions:
Heat the oven to 350 F. Line the pie shell with a sheet of foil and fill at least 3/4 full with pie weights or dry beans. Bake the pie shell in the preheated oven for 7 minutes and put it on a rack to cool.

Brown the sausage in a skillet over medium heat, breaking up and turning until the meat is no longer pink.

Arrange the sliced cooked eggs in the bottom of the cooled crust and top it with the browned sausage and some shredded cheese.

Whish the three eggs, milk, salt, and pepper in a bowl. Pour the egg mixture over the sausage and cheese. Bake the quiche in the preheated oven for 30 to 35 minutes or until a knife inserted in the center comes out clean. Remove to a rack and let stand for 8 to 10 minutes before slicing and serving.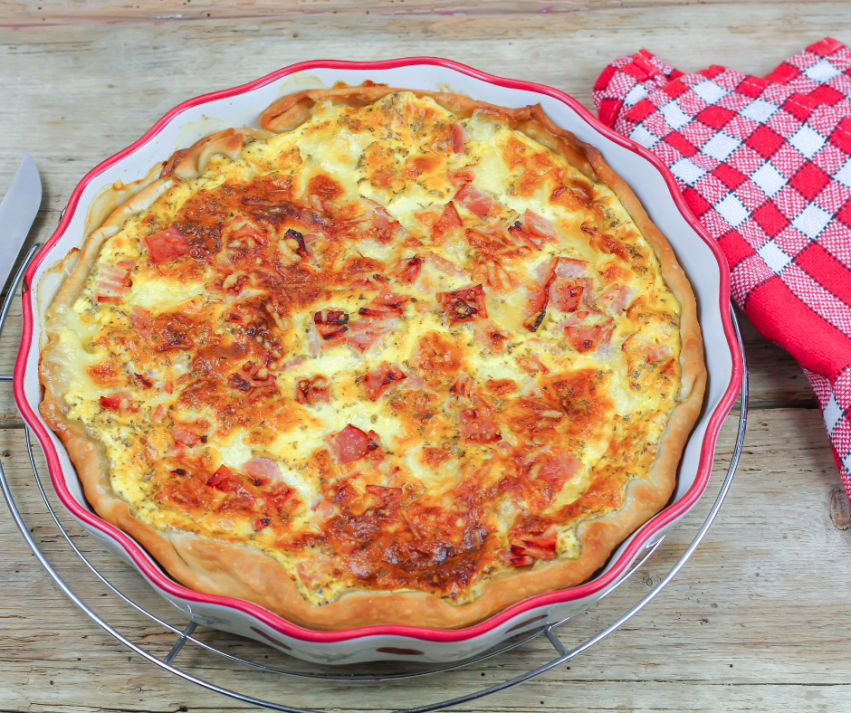 Pinto Bean and Cheese Tacos
No need to dine in a resto just to satisfy your Tex-Mex cravings-- prepare these simple ingredients at home and make your cheese-loving heart happy!
What You'll Need:
1 15-ounce can pinto beans, rinsed

¾ cup mild salsa

1 heart of romaine

8 taco shells

1 cup shredded Cheddar
Directions:
Combine the beans and 1/2 cup of salsa in a small bowl and microwave on high until hot.

Tear or slice the lettuce into bite-size pieces. Divide the taco shells among four plates. Divide the bean mixture among the taco shells and top with the lettuce, Cheddar, and remaining 1/4 cup of salsa.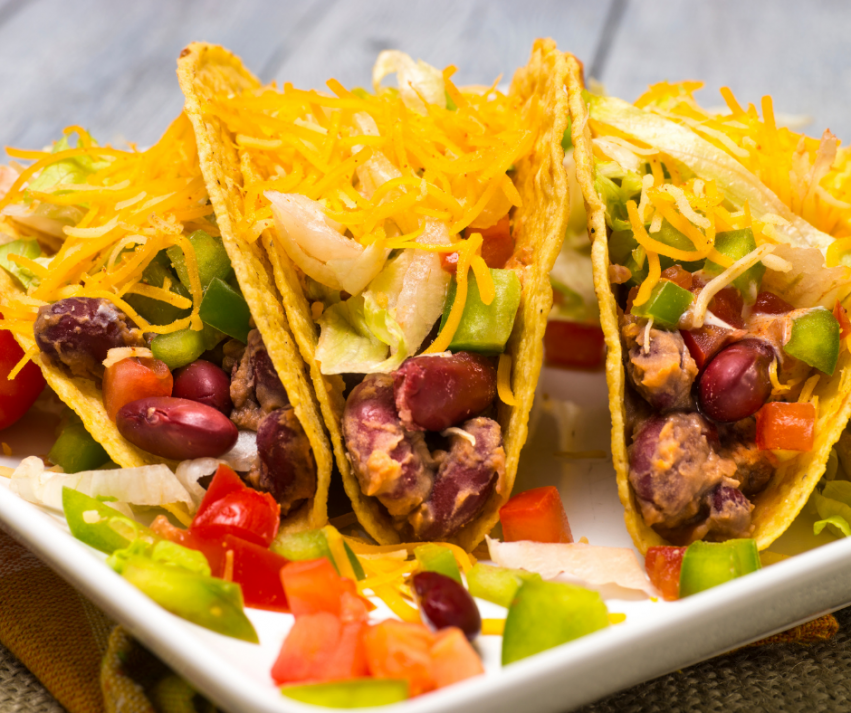 Prosciutto and Egg Panini
Paninis are always a good idea, and we surely can't get enough of it, especially if it's loaded with cheese!
What You'll Need:
8 large eggs

kosher salt and black pepper

2 tablespoons unsalted butter

4 soft rolls, halved lengthwise

8 ounces prosciutto, thinly sliced

8 ounces Swiss cheese, thinly sliced
Directions:
Whisk the eggs, 1/2 teaspoon salt, and 1/4 teaspoon pepper together in a small bowl. Melt one tablespoon of the butter in a large nonstick skillet over medium heat. Pour in the eggs and scramble until cooked through.

Divide the eggs among the bottom halves of the rolls. Top them with prosciutto and cheese, and sandwich with the tops of the rolls.

Melt the remaining tablespoon of butter in a grill pan or large nonstick skillet over medium heat. Place two sandwiches in the pan. Press often with a spatula and cook until cheese has melted and bread is golden.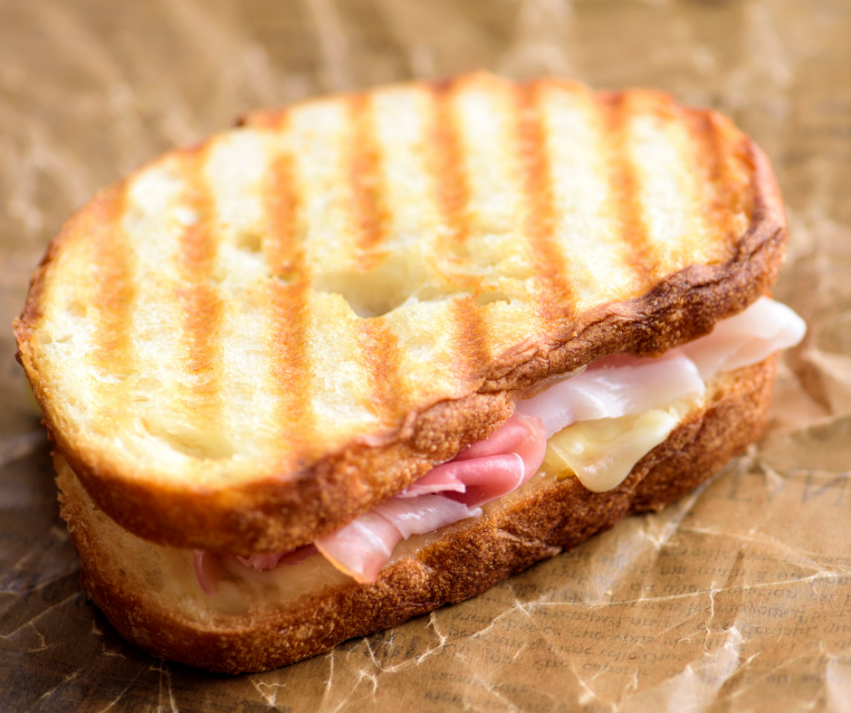 Cheddar, Ham, and Pasta Bake
Do you need a quick, pick-me-up meal on a weeknight? Pasta is a sure-fire favorite and it sure isn't complete without a bucket-load of cheese!
What You'll Need:
8 ounces elbow macaroni (uncooked)

4 tablespoons butter

6 to 8 green onions (thinly sliced)

1 clove garlic (finely minced)

1 tablespoon parsley (chopped)

12 to 16 ounces ham (diced)

3 tablespoons flour

1 cup beer

2 cups of milk

1 cup/4 ounces American cheese

2 cups/8 ounces cheddar cheese (sharp, shredded)

1/2 cup/2 ounces Parmesan cheese (shredded)

salt to taste

black pepper to taste
For the Topping:
3/4 cup bread crumbs (soft, fresh)

2 tablespoons butter (melted)

sweet paprika to taste
Directions:
Heat the oven to 350 F. and grease a 2 to 2 1/2-quart baking dish. Cook pasta according to package instructions and drain and rinse under tap water.

Melt butter in a large skillet over medium-low heat. Add the onions, garlic, parsley, and ham and saute. Stir in the flour until well-incorporated. Pour in the beer and gradually add the milk and cheese.

Stir the cheesy mixture until thickened. Add some salt and pepper to taste and fold in the drained pasta.

Spoon the mixture into the prepared baking dish. Combine bread crumbs with melted butter and sprinkle over the casserole. Sprinkle lightly with paprika. Bake the pasta until topping is lightly browned and casserole is bubbly.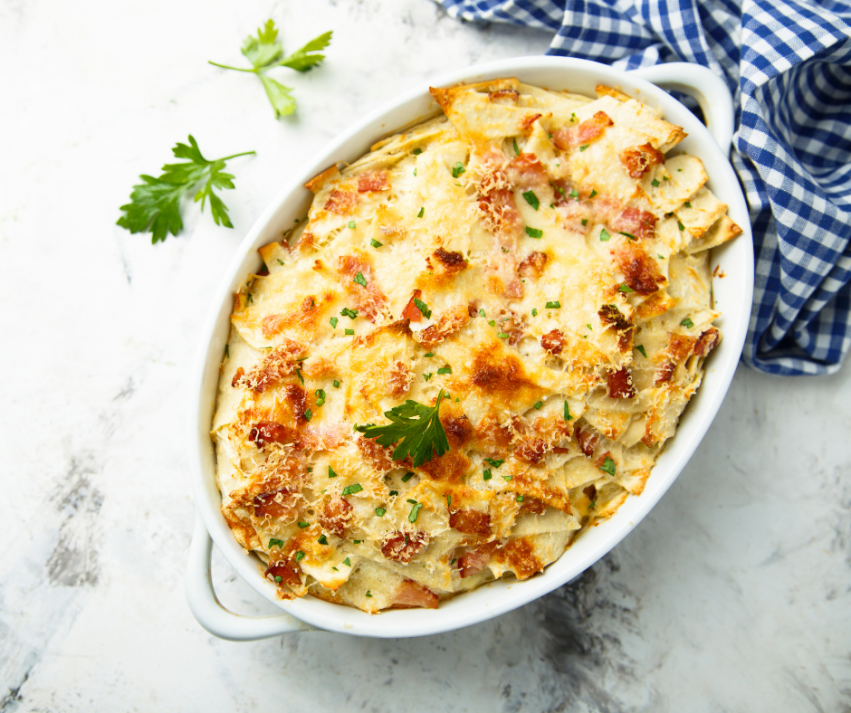 Cheesy French Onion Soup
Soups make a fantastic first course at fancy dinner parties, but this delicious and cheesy onion soup recipe will be a welcome addition to the table, even if it's just a weeknight dinner date with the fam!
What You'll Need:
4 cups onions (sliced)

4 tablespoons butter

2 (about 14 ounces each) can beef broth

1 (about 14 ounces) can of chicken broth

1/4 cup sherry (dry)

Salt (to taste)

Black pepper (to taste)

8 to 12 small slices of French bread

1 cup Parmesan cheese (grated; more or less as needed)

8 ounces Monterey Jack cheese (shredded)
Directions:
Sauté onions and garlic in butter in a large Dutch oven or stockpot over low heat until lightly browned and tender.

Add beef and chicken broth to the onions and bring to a boil. Reduce the heat and simmer for five minutes to blend flavors. Add sherry and season to taste with salt and pepper.

Toast your bread slices and sprinkle with some Parmesan cheese. Ladle hot soup into four individual ovenproof casseroles and place two to three slices of toasted bread on top of soup in each. Sprinkle each with Monterey Jack cheese. Bake at 375 F for about 25 minutes, or until soup is bubbly and cheese is lightly browned.
Potato-Apple Gratin
Try your hand at a classic French cheesy dish and give your National Cheese Lover's Day a sweet and savory ending!
What You'll Need:
3 eggs

3 cups buttermilk

1 tablespoon fresh thyme leaves

2 teaspoons kosher salt

.13 teaspoon freshly ground pepper

2 pounds baking potatoes, peeled and cut into 1/8-inch slices

2 pounds Granny Smith apples (unpeeled), cut into 1/8-inch slices

1 pound Swiss cheese, shredded

¼ pound Parmesan, grated
Directions:
Heat the oven to 400° F. and coat a 3 1/2-quart casserole with cooking spray.

Whisk together the eggs, buttermilk, thyme, salt, and pepper in a medium bowl. Arrange a layer of slightly overlapping potatoes in the casserole. Cover with a layer of apples and sprinkle with a third of each cheese. Pour a third of the egg mixture on top. Make two more layers.

Bake covered for an hour and 15 minutes. Remove cover and bake another 15 minutes or until the potatoes are tender and remove from the oven. Serve warm.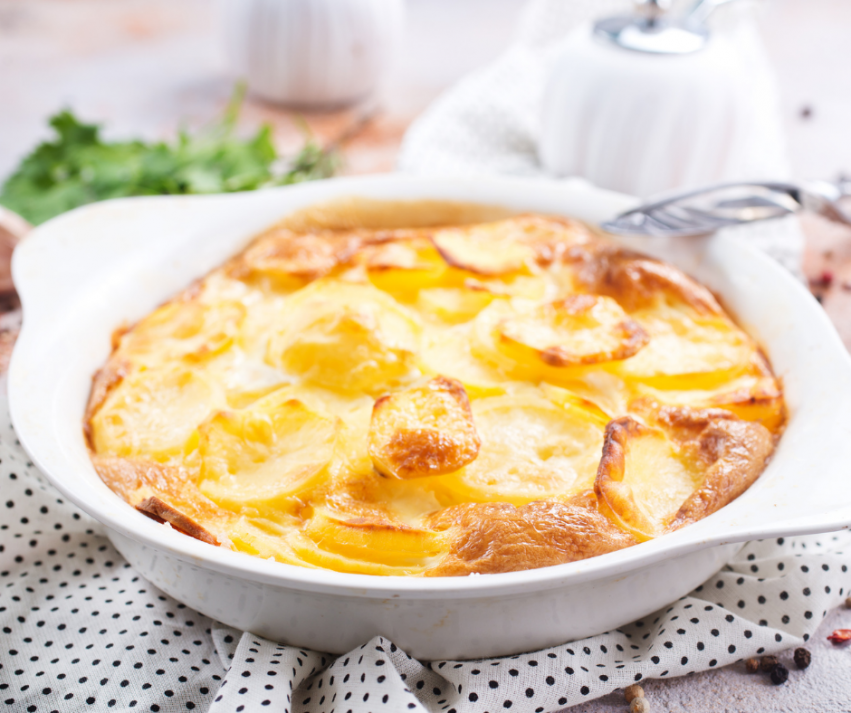 Selling Your Home?
Get your home's value - our custom reports include accurate and up to date information.
Get Home Value